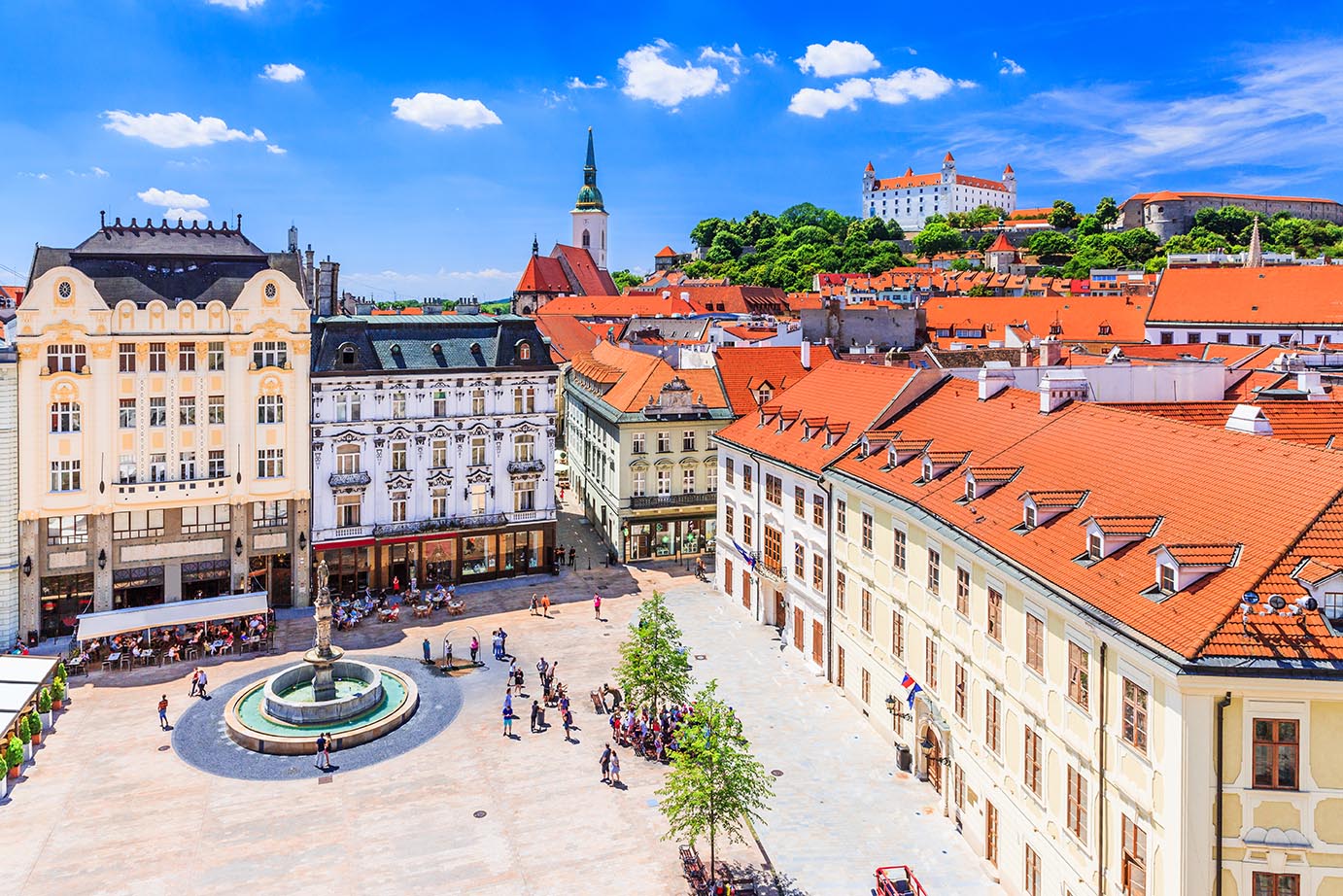 Bratislava even thoug is not a big city has a lot of to offer and one day to explore Bratislava is not enough. Bratislava it is not just historical city center, but Bratislava is also the inconic Blue Church, Blumental Church, one of the oldest building in Slovakia – teh Devin castle. At Devin castle you can try also local pecularity the currant wine. But Bratislava is also area of Small Carpathian Wine Road, where makes a favorite wine of empress Maria Theresa – Frankovka Modra. One legend says, that Maria Theresa always when came to Bratislava drank Frankovka Modra and after visit she became a pregnant. And she had 16 children altogether :). For those in a hurry who want to discover as much as possible in the shortest available time, there is a small selection of the most beautiful museums and sights in Bratislava. Discover the hidden charm of Bratislava within a day.
8 a.m.: Breakfast in Žufaňa Bistro
Relaxed atmosphere of the Bistro, will help to start exploring Bratislava in the best way gives you the energy you need for your sightseeing tour.
Tip: We recommend you to taste one of the pates thanks them the bistro is famous in Bratislava.
Dulovo námestie 4| 821 08 Bratislava – www.zufana.sk – Tel: +421 948 768 086
9 a.m.: Panorama view from St. Michael's Gate
St. Michael's Gate is only remaining gate to Bratislava. The rest of them were destroyed on order of Maria Theresa together with city protection wall. St. Micahel's Gate is the 51m high tower, from the top of it it is a superb panorama view on historical city center of Bratislava.
Tip: Now at the tower seats Museum of  Arms. Here you can see the historic military armour from Slovakia, Austria & Hungary. Ticket to St. Micahel's Gate includes also an entrance to Museum of Pharmacy located in historical Red Crayfish Pharamcy. Entrance costs 5 EUR/ an adult.
Michalska ulica 22| 811 03 Bratislava – www.muzeum.bratislava.sk – Tel: +421 2544 330 44
9:30 a.m: Primate's Palace
Primate's Palace is a hidden gem of Bratislava. The Primate's palace was built in 18th century for archbishop Jozef Batthyani of Esztegrom. During the Ottoman wars, the Ottoman empire occupied Budapest, therefore Bratislava became the capital city of the Hungarian kingdom, but also Esztergom the seat of arcibishop, therefore Trnava (city located 50 km from Bratislava on East) became the seat of arcibishop, who built one palace also in Bratislava.
Tip: At the palace  you'll find the splendid mirror hall as well as a unique collection of English tapestries showing antic stories about Leandro and Hero.
Primacialne namestie 2|811 01 Bratislava – www.bratislava.sk – Tel: +421 911 071 561
10:15 a.m: The Nedbalka Gallery
The Nedbalka Gallery´s mission is to promote public understanding and enjoyment of art by the foremost artists working in Slovakia from the late nineteenth century up to the present.About 160 paintings and sculptures give visitors a greater insight into Slovak art scene of the period.
Tip: The paintings of slovak famous painter Vincent Hloznik, whose 100 years from birth we commemorated in 2019.
Nedbalova 17| 811 01 Bratislava – www.nedbalka.sk-Tel: +421 2207 660 31
10:45 a.m: Old Market
Old market House – or in Slovak Stará tržnica is a bbuilding from 1910, which was the first covered market in Bratislava,The building was designed an eclectic style by famous architect Frantisek Nechyba. Now the Old Market is place of various farm markets, concerts, public gatherings.
Tip: Visit a wine bar at Old Market, serving Slovakian wine from small producers.
Namestie SNP 25| 811 01 Bratislava – www.staratrznica.sk – Tel: +421 903 707 913
10:15 a.m: Fun at Space & Mirror Gallery Militium
The Militium Gallery is the world of mirrors & ilusions. The militium gallery  features:
Two mirrors opposite each other – Caminus and Passus
Two and two mirrors opposite each other – Tabularium and Spiramentum
Two and two and two mirrors opposite each other – Universum
Other than right angle mirrors – Sphaera is no longer an idea of infinity but it is a kaleidoscope.
Tip: Recommend you to take the pictures at the gallery.
Zamocka 26| 811 01 Bratislava – www.militium.sk – Tel:+421 908 507 696
12:00 p.m: Bratislava Grand City Tour with Devin Castle
Bratislava Grand City Tour with Devin Castle will give you a full picture about the city, and you will get know the Bratislava with knowledgeable licensed guide.
Tip: meeting point in front of main entrance to Park Inn by Radisson Danube Hotel. The guide will wait you there with either sign with your name of sign Bratislava City Tours.
12:00 – 2:15 p.m. Walking tour of Bratislava
During walking tour you will discover all the main highlights of Bratislava such as:
The statue of Pavol Orszag Hviezdoslava
The building of Slovak National Theatre
The Reduta Building
Man at Work & Schoner Naci statues
Main Square
Roland Fountain
Old Town Hall
Franciscan Church
Primate's Palace
St. Michael's Gate
Palce of Hungarian Royal Chamber in Bratislava
St. Martin's Cathedral
Tip: During the walking tour we recommend you to taste a local pecularity of Bratislava – Bratislava's rolls.
2:15 pm – 3:00 p.m. Panorama tour of Bratislava
Panorama part of Bratislava Grand City Tour with Devin Castle consist of ride of modern air-conditioned minibus with live guiding with the guide you had during walking tour. Panorama tour enable us to get know:
Grasalkovich palace, now a residence of Slovak president
Palisady district, a district full of vilas from end of 19th & begining of 20th century built in style of funcionalism
Inconic Bratislava Castle
Slavin Monument
Tip: from Bratislava Castle & Slavin Monument there is a nice view not only on Bratislava but also you can see Austria and in good weather conditions also Hungary.
3:00 p.m – 5:00 p.m. Visit of Devin Castle
Devin castle is located now in district of Bratislava – Devin. The castle itself is one of the oldest building in Slovakia built in 9th century. According to the legends at the caslte lived and worked St. Cyril & Methody who brought a christianity to Slovakia, wrote a first slovakian poem and also invented first slovakian scrip Hlaholika, redecessor of alphabet which now is still used in Russia, Bulgaria & Serbia.
Tip: We reccommend you try a local pecularity a currant wine – Devinsky Ribezliak.
Muranska 10| 841 10 Devin-Bratislava – www.muzeum.bratislava.sk – Tel: +421 2657 301 05
05:30 p.m. Taste traditional cuisine of Bratislava at Cafe Stefanka Restaurant
A very famous restaurant Cafe Stefanka serves traditional cuisine of Bratislava which is a mix of Slovakian, Hungarian & Austrian cuisine.
Tip: We recommend you to taste traditionla homemade potato dough ropes.
Palisady 59| 811 06 Bratislava – www.stafankabypulitzer.sk – Tel:+421 2526 208 47
07:00 p.m. UFO observation Deck & Restaurant
The best way how to finish getting knowing Bratislava in one day is feast your eyes on night Bratislava from UFO observation deck. UFO is a unique obserwation tower, a bar and a restaurant located at the very top of the bridge of Slovak National Uprising.
Tip: when booking any tour or transfer with Bratislava City Tours you will get a gift voucher to UFO – 20% discount to observation deck and 10% discount for consumation.
Most SNP 1| 851 01 Petrzalka – Bratislava – www.u-f-o.sk – Tel: +421 2625 203 00