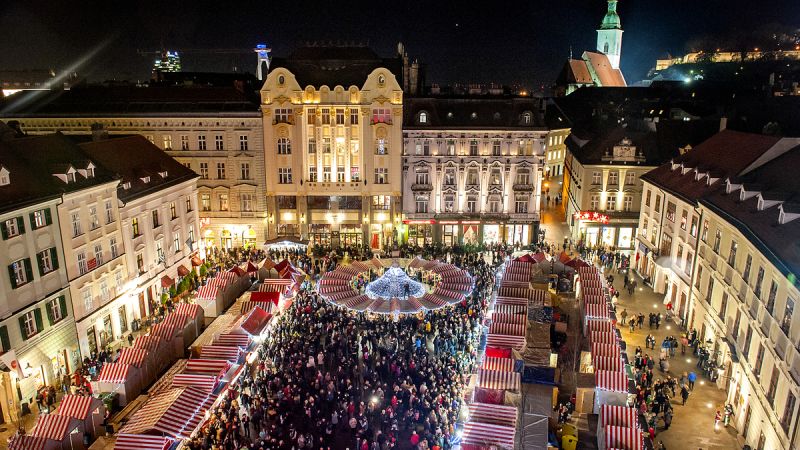 When it's cold outside and the air is filled with the tempting scents of cinnamon, vanilla, oranges, cloves and mulled wine, you can hear on the streets Christmas carols, it's time for Christmas market. Bratislava has very famous christmas market, which is very popular with the locals as well as with visitors of Bratislava. In this blog we will show you the main highlights of Christmas market in Bratislava.
WHERE IS THE CHRISTMAS MARKET?
The Christmas Market is located at the Main Square and Hviezdoslavo Square. In the recent years it is also popular another Christmas Market which takes place in front of Eurovea Shopping Center. No matter which Christmas Market you will visit, the unique ambience of the market is presentable in each one.

THE MAIN HIGHLIGHTS OF CHRISTMAS MARKET IN BRATISLAVA
The Christmas Market in Bratislava is full of loacal pecularities, crafts and goodies, which will definetly charm away your taste buds. The variety is wide, and you should not miss these highlights:
Ciganska Pecienka (Roma-styled roasted pork)
The synonym of Christmas Markets in Slovakia is Ciganska Pecienka. It is a bun that is filled with chicken or pork meat, onion and musard and you must definetly try it.
 LOKŠA
Loksa is a dense salty or sweet pancake. The simplest version is served heated with butter. But the original loksa is mainly served with goose pate.
APPLE STRUDEL
As Slovakia had been almost 1000 year part of Austro- Hungarian Empire, apple strudel is also very popular desert in Bratislava' Christmas Markets. Strudel is a crisp cake filled with poppy, apples, nuts, curd or raisins.
MEAD
As well as Ciganska Pecienka mead is synonym of Christams Markets in Slovakia. A sweet, hot alcoholic drink considered to be one of the oldest alcoholic drinks in Slovakia. Honey blended with wine gives a unique flavor and also this drink is full of vitamins :).
MULLED WINE
Another highlight of Christmas Markets. Mulled wine at Bratislava Christmas Market is made from fine local wines from Small Carpathian Wine Road. It has two versions, red or white wine.
PUNCH
Popular alcoholic drink at Bratislava Christmas Markets. The most traditional contains fruit. But there are also non alcoholic versions of punch for kinds and drivers too. Or if you are brave enough you can try also turbo punch with absinthe. You will definetly not feel cold more!
TRADITIONAL CRAFTS AND GIFTS
Christmas Markets are not just about outstanding street gastronomy, but also about the Christmas Gifts like home-made scented candels, fur hats and scarves, handmade wooden toys, jewelry, books, pottery and many more.
In addition to food & drinks and local Christmas crafts, Christmas markets are also full of the spirit of Christmas what is still strong in Slovakia. You can see singing children folk ensembles, local and acapella singers singing Slovak as well as international Christmas carols.